Four Reasons To Preplan
Not everyone likes to plan ahead, and especially not for something like a funeral. However, there are a number of compelling reasons to arrange your final wishes long before you will need them. Here are four of the most common reasons:

Your Family Will Know Your Wishes
Sadly, many families experience disputes and hard feelings when arranging for a loved one's unexpected death. Because memories of the loved one's wishes sometimes contradict each other, disagreements can easily arise. Such infighting and disunity can drive bitter emotions and damage the healing process. By making your plans now, your loved ones don't have to guess at what you may have wanted; they will know you were remembered as you wanted to be.

Urgent Decisions Are Completed Now
Did you know that often more than 150 decisions and tasks must be completed within the first 24 to 48 hours after an individual's passing? By arranging your final wishes ahead of time, you can ensure that your loved ones don't have to wrestle over those details and decisions during their time of emotional upheaval. The ability to know everything is taken care of will allow proper remembrance and the first steps of healing.

Peace of Mind is Yours
All of your arrangements are guaranteed and will be carried out just as you have directed. You and your family can feel comfortable that although you won't need the plans for years to come, when they are needed, they will be available and take care of. There is an immense peace knowing your wishes will be executed as you designed them, meaning those you care about will be able to remember you as you want them to.

Funeral Costs Are Addressed
As with nearly all products and services, inflation drives the cost of funerals up yearly. Preplanning and prefunding your final wishes generally ensures that your funeral is completely paid for—at today's prices. While many people assume savings or life insurance will cover their final expenses, funerals must be paid for upfront, while many life insurance policies or bank accounts aren't accessible to families until well after funeral services are rendered. By prefunding, your family isn't left to decide who will pay for the funeral.
Get Started Preplanning Now
Don't delay. Take the first step to providing peace of mind to you and your family. Prevent over-spending and give your loved ones the opportunity to remember you how you want to be remembered. Download our free How To Guide to learn more.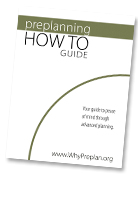 Still Unsure? Read These True Stories
Finding The Joy
No one is ever ready for the death of a loved one, but for Patty Higham, losing her mother unexpectedly when she was 9 years old was especially devastating. Caught unprepared by the tragic accident, the family's pain was compounded by a messy funeral process that delayed the service for a week.
A Final Gift From Grandpa
Kathy Grahn considers herself to be pretty lucky. While many people might only see their grandparents on holidays or the occasional weekend, she was able to visit hers almost every day and were a part of her daily life. She forged a special relationship with them that's never diminished.
Preplanning For Your Family and For Yourself
When it comes to life after retirement, Joe and Dena Nelson are living the American Dream. The former college sweethearts have been going strong, having fun together for 50 years and don't have any intentions of slowing down.